Muir Earns CIF Division 2A Semifinal Berth with Balanced Effort Tuesday; Mustangs Get 62-50 Road Win at Walnut
Published : Wednesday, February 21, 2018 | 5:46 AM
Stop us if you've heard this before.
Muir's success is rooted in their balance throughout and the Mustangs' senior leadership.
And such was the case on Tuesday night.
The Mustangs, hoping to advance to the CIF-SS Division 2A semifinals in a decade, played inspired and gutsy basketball throughout.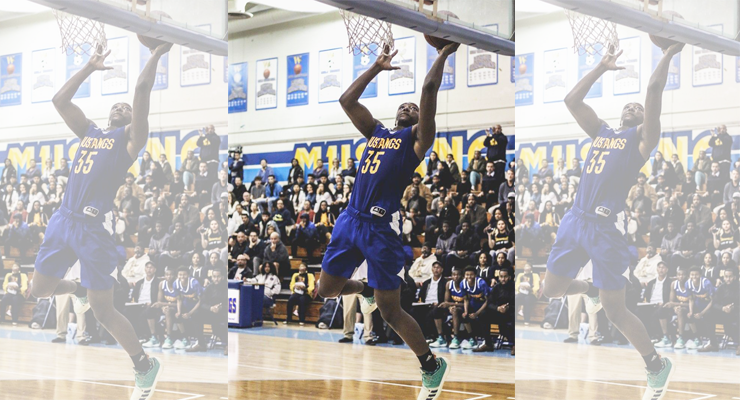 After convincing home playoff victories over Saugus and La Serna, respectively, it was time to get tested on the road.
The Mustangs passed that test with flying colors.
They got out early, took the crowd out of the game, and handled Walnut, 62-50, and are onto the semifinals.
That senior leadership we talked about?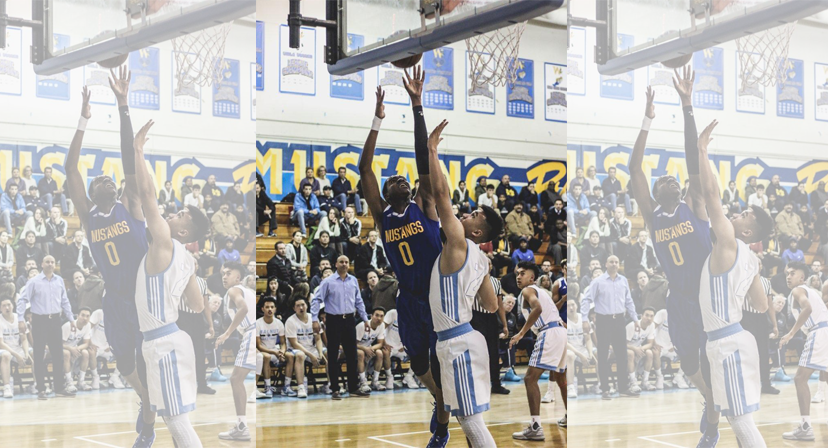 Haleem Jenkins, Hunter Woods, Tiyon Martin, Tasson Aubry and Simaine Stewart accounted for all 62 points on Tuesday night.
Jenkins, for the second time in three playoffs games, led the Muir offense.
The senior guard finished with 18 points, 5 rebounds, 3 steals and 2 assists.
Hunter Woods added 15 points, 9 rebounds, 3 assists, 3 steals and 2 blocked shots.
Not only did the seniors produce, they used their experience, and used a 14-7 fourth-quarter surge to put Walnut out of their misery.
Tiyon Martin had another big game at point guard.
The senior finished with 14 points, 7 assists and 3 rebounds.
Tasson Aubry, 'the muscle' got 13 points, 6 rebounds, 2 steals and 2 blocked shots.
And despite having issues with both ankles, Simaine Stewart Junior continued to inspire his teammates with another gritty effort.
Stewart pitched in 6 rebounds, 3 assists, a steal and 2 points.
Muir will make the 105-mile drive to take on San Marcos (Santa Barbara) on Friday night at 7.
The Mustangs have now won 18 of their last 20 games and without question are playing their best basketball of the season.
The Royals (24-6) defeated Rancho Verde, 53-43, in their quarterfinal match up Tuesday night.
Quotable:
Muir coach Simaine Stewart: "What we're getting better at is when someone is hot, we get them the ball. I think we're playing our best basketball right now. Our rotations are solid. I think we got away from who we were in the Pacific League. Defensively, we're trying to make someone else beat us (someone other than an opponent's best shooter).
We wanted to get some run outs— and get lay ups, which gives us the chance to set up our defense.We jumped on them early with our pressure defense. We took the crowd out of the game early, which is something we wanted to do going into this game on the road."
Muir senior Tiyon Martin: "I set the tone early and everybody did their parts. Haleem got us going offensively and everything fell into our hands. Every time something isn't going our way, we come together and say 'not today.' We played really hard and we matched their intensity. Everyone did what they had to do. (For Friday) we want to get Hunter going early on, so it opens things up for everyone else."
Muir senior Hunter Woods: "I feel like lately we have big second halves, and sometimes that gives the other team some hope. I need to apply myself early and open it up for my teammates. Tonight was a great team win. We shared the ball well and everyone did their part. We played with a little more fight and grit and had a lot of second-chance points. We are playing for each other and it's been a key part of our success."
Box Score:
M: 17-19-12-14-(62)
W: 11-15-17-7-(50)
Records:
Muir (23-7); Walnut (20-10)