Girls Volleyball: Blair Wins First Match in 7 Years; Vikings' Coach Janel Coburn Trying to Change Culture and Expectations
Published : Monday, September 11, 2017 | 12:39 AM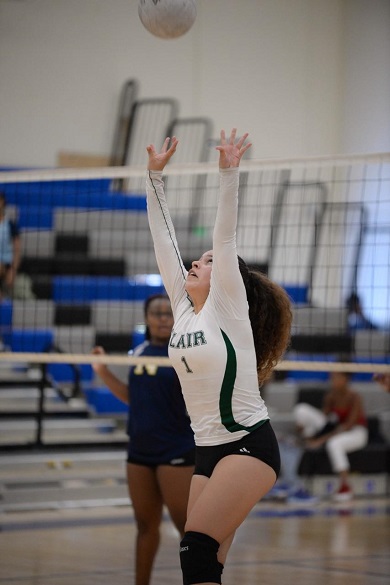 It would probably take someone Janel Coburn's age to be patient enough to take on a program that hadn't won a volleyball match in 7 years.
The 24-year old Mission Viejo product was 0-19 in her first year-plus at a school that is not only used to losing, it sort of accepts it.
Coburn played at Mission Viejo and then Northwest Christian University in Eugene, Oregon.
She is a competitor and is used to winning.
Coburn also coaches club volleyball with La Salle's Tiare Tuitama.
In her time at Blair, she saw Alon Margalit lead the basketball program to heights not seen since Ronald Reagan's first year in Washington.
The Vikings had their most successful season since 1981 and went to the CIF finals and earned a state playoff victory as well.
When Margalit left for Cantwell-Sacred Heart, many at Blair didn't know who to look to when it came to changing the culture, as Margalit and principal David Ibarra had been committed to doing.
And as frustrated as she is at times with the lack of athletic success on campus, Coburn said Principal Ibarra is the right person to help make that change more permanent.
After 19 consecutive losses in her tenure, and 7 years of nothing but losing for the program, Blair was ready to change that when they took on Muir in the eighth match of the 2017 season.
Blair won a tough and close first set, 25-23.
They cruised in the second, 25-15, and were just 25 points from earning the school a first match victory since some of the players were 8 years old.
The Vikings, given a chance to fail, did not.
They grinded out a 25-22 third-set, match-clinching victory to the delight of the young women, Coburn and the entire school.
Sophomore Kaleah Howell led the way with 8 kills.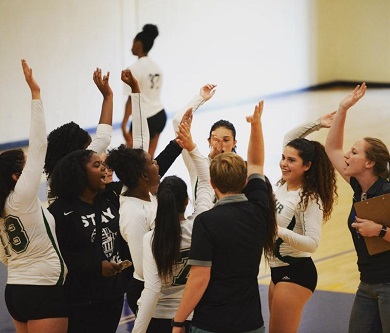 Nohelia De La Torre, also a sophomore, added 13 assists.
"She's (De La Torre) our captain," Coburn said. "She is always leading the pack during conditioning, and as a setter, she provides energy and helps run our system on the court."
Libero Briahna Durston is also someone credited with changing expectations at Blair.
The bus ride back from Muir was less than five miles, but it was memorable.
"The kids came by on the ride home and said that they now understand what we mean about having pride," Coburn said. "I was even happier that we had to fight for this win and it wasn't a blowout, because the kids showed themselves that they have the heart to produce in pressure situations."
Her husband Lars is the assistant coach, and someone she met in college.
He is a youth pastor in Glendale.
Both Janel and Lars, despite being in their youth, already have life missions of helping others' reach their goals and strive for more.
"Coaching is a mentoring thing," she said. "It's somewhere I can make a difference in kids lives and Blair needs that desperately."
The Vikings have two weeks before their next match and they hope to use that time to build off that first win.
Despite not being a clairvoyant, Coburn said her team plays at the level in which they warm up, and the Vikings, in her estimation had a look of a winner before Tuesday's match at Muir.
Quotable:
Blair volleyball coach Janel Coburn: "It was brutal. Even more than just the losing, the environment and culture at Blair. The athletics at Blair is lacking. I had never been part of a program that was content with losing. The culture needed to be changed and Principal Ibarra is fighting that as well."
Former Blair basketball coach-athletics director Alon Margalit: "She brings so much energy and passion and wasn't deterred by the losing. A lot of things I did with the basketball program, I saw her doing with the volleyball program. All of the work, holding kids accountable, bringing positive energy. She and Principal Ibarra can change that culture at Blair."
La Salle coach Tiare Tuitama: "Janel is a very good coach. She knows how to relate to the girls and teach not only fundamental aspects, but the overall game. She is tough when she needs to be and her players respect her for it. She's a coach that is teaching life lessons every day through coaching."