Ethan Henry isn't just what's right about high school athletics, he is what's right about the American spirit.
Henry came to La Salle and early on, he played football and ran track, but his true calling, he felt, was basketball.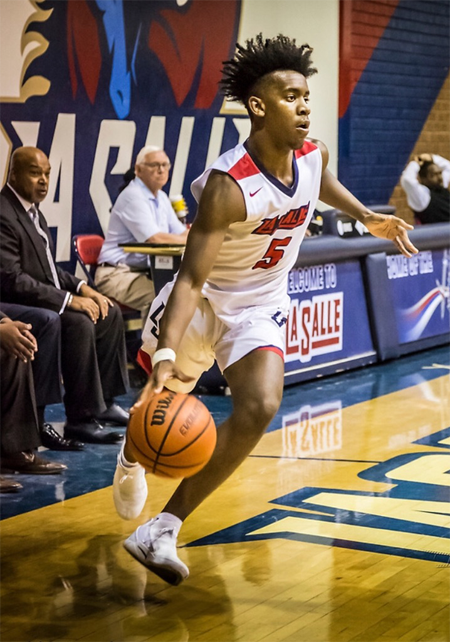 Unfortunately and even more humbling for Henry, he played JV as a sophomore and he wasn't a real scorer in his junior year, despite having solid defensive skills.
His effort on the court was never in question, his talent and potential was clear for all to see, but in a number of season-ending meetings with head coach Mike Lynch, the soon-to-be senior needed to pick up his game if he wanted to be a factor and contributor for the Lancers' program.
What held the 6-foot-3, 180-pound Henry back, he acknowledged, was a lack of confidence and belief in oneself.
He never doubted his chances of playing basketball at the collegiate level, but in reality, he had to be a decent enough player in high school for that conversation to even take place, let alone become reality.
In spite of doubts that would creep into his mind from time to time, Henry would never quit, and to be quite frank, he couldn't give up because of the examples of courage he'd seen in his own life.
His hero, and mother, Emily Henry, raised three kids on her own, and worked tirelessly, because of her quest to give her children the best life she could.
Henry's sister, Brittney, sadly passed away from Leukemia back in 2006 when he was just six-year old, but the now 18-year old La Salle athlete said Brittney still very much inspires him to this day and he feels she is looking after him from above.
Brittney was also the person that got him interested in basketball.
Emily raised her children, Brittney, Ethan and their brother Kris with a remarkable amount of love and a work ethic that would make anyone proud.
It's also their strong faith in their God that has helped guide each of them, and has been instrumental in dealing with life's horrific tragedies.
So, fast forward to the end of his junior season in 2016-17.
Henry worked his butt off, but still didn't get the playing time he would have liked.
Lynch said Henry's willingness to be coached and his nonstop effort on and off the court in making his game and body better were a few things that set him apart from many.
With the 2017-18 season being his last real shot at making a name for himself and as importantly, giving himself the best chance to be seen by college coaches, Henry continued his second-to-none pace of being in the gym every day and improving in every phase of the sport he loves.
That work ethic also included his GPA being just north of the 3.3 mark.
But still, there was no guarantee he was going to see much floor time, and for the most part, Henry was brought in from time to time to guard the opposition's best offensive player.
He finally got his shot, though.
The Lancers found themselves 2-3 in Camino Real League play and in a scenario that a postseason berth was far from a guarantee.
"It was at that time that I made an extremely tough decision to make a change in our starting lineup," Coach Lynch said. "The change was to start Ethan in an attempt to become better defensively and make a run at the playoffs. The change worked and we went 3-2 the rest of the way and Ethan played a major role in us earning a postseason berth."
Over the final couple weeks of the season, Henry paid back his teammates that always showed the confidence he had lacked in himself, especially their star big man, Darius Henderson.
His breakout game, he said, was against University of Irvine in the East LA Showcase, in which he scored 13 points and had 7 or so rebounds.
But this was never about points or stats for Henry, it was about doing everything he could to make his buddies and the program better off because of whatever contributions he could deliver, and that included efforts one might never see in a stat book.
But they are the things that often make a difference in winning and losing games.
It's because of his selflessness, his tenacity, and his never giving in that made it possible for him to make the Linfield College basketball team for next season.
Henry will be headed to McMinnville, Oregon, in the fall to continue to make those around him and those who love him proud.
He wanted to mention his great appreciation to his coaches, his teammates, his family, and that very much includes his grandparents, Juliana and Frederick Gabriel.
As important, he hopes his story reaches those who might not be 'the man' the day they step foot on a campus, and that with perseverance, hard work, the heart of a lion and the support and love of family and friends, it's never too late to believe in a dream.
Quotable:
La Salle senior Ethan Henry: "I had pride that I knew I could do this, but when our team was struggling, I felt bad that I wasn't contributing and helping us become a better program. Not believing in myself was the biggest factor. I knew what I could do in practice and in workouts, but it wasn't translating in games. I was frustrated, because I knew I was better than what I was showing and I wanted to prove to the coaches and my teammates that I could be the player they believed I could be.
If you're not confident in yourself, you're not going to play to your capability. When I started doing that, people were coming up and telling me great job and that I'm doing well, and that meant a lot to me. It felt really good to hear the praise. My sister might not be here with me physically, but she's very much with me spiritually and she's the one who told me I had big things ahead of me. I'd hope anyone who found themselves in my situation would understand that contributing to something bigger than yourself in turn makes you a better individual. I also can't emphasize enough just how important it is to never stop working or dreaming."
La Salle coach Mike Lynch: "This young man worked extremely hard, kept the faith that God would do His part and lastly, he trusted the process. Sports are full of life lessons, such as exercising patience, hard work, pushing through adversity and selflessness to name a few. If these lessons were being graded, Ethan deserves an A-plus."
La Salle junior Kalani Jones: "What I learned most from watching Ethan is that if you stay true to hard work and are always open to being coached and listening, you will improve and go from having a minimal impact to being a key player on the team. People who understand his story will see that hard work and perseverance will beat everything else. As long as they work hard, they need to understand to be patient and know that their time is coming. The thing I respect most about Ethan is his character. He is a great teammate, an exceptionally hard worker and that is the reason he earned his playing time on the court."