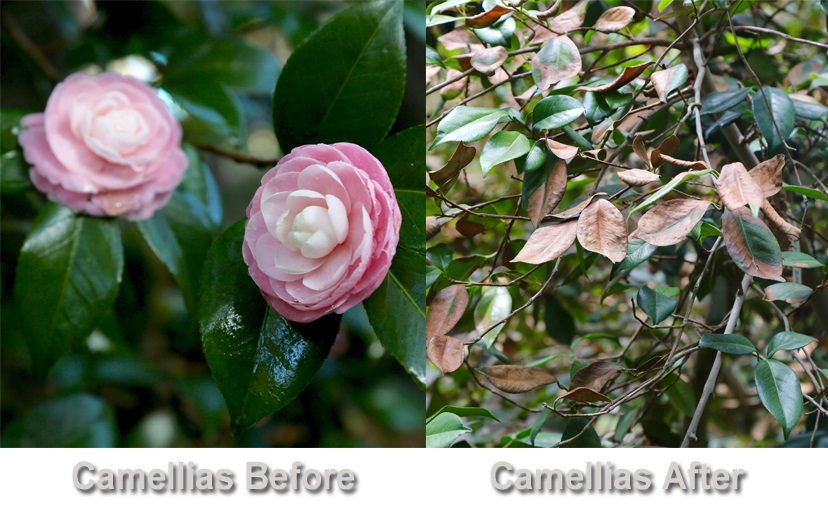 This past weekend saw temperatures climbing to historic highs all over Los Angeles county, including at Descanso Gardens in La Cañada Flintridge. This morning, the Gardens' horticultural staff discovered that about 75% of Gardens' historic camellia collection was affected by sunburn from the hot temperatures.
"When you visit you will see the tops of our Camellias are brown, but this isn't the first time we have seen sunburn on our plants and with care, we expect the camellias to bloom as usual this winter," said Rachel Young, Director of Horticulture and Garden Operations at Descanso Gardens.
Descanso announced its plans for caring for the affected plants. (If you have camellias, or any other plants that are exhibiting similar problems you can follow the same plan.)
• Leave the burned leaves there (they will protect the plants from additional damage)
• Stop pruning for the season in order to let the plants have as much energy as possible to resprout.
• Water deeply as much as possible at night when there is not too much risk of the hot temperatures.
• Hold off on fertilizing until we have cooler weather, as that could cause additional leaf burn.
• Do not spray the plants with water – it can intensify the burn
Along with the Camellias, Descanso is monitoring the giant Coast live oaks and majestic redwoods.
"We're not sure if it was because of the extreme high temperature, or the fact that the plants went from 75 degree days to 110°-114° in one day, so they were not adapted, but the temperature change was too drastic for them to handle," said Young. "If we care for them in the correct way, they will rebound."
About Descanso Gardens
Founded as a public garden in 1953, Descanso Gardens is located at 1418 Descanso Drive, La Cañada Flintridge, CA 91011. Descanso Gardens is open daily (closed Christmas) from 9 a.m. to 5 p.m. Admission is $9 for adults; $6 for seniors and students with a school I.D.; $4 for children 5 to 12, and free for ages 4 and younger. Descanso Gardens is a member-supported garden accredited by the American Alliance of Museums. Join Descanso Gardens and enjoy free admission and early entry year-round. Information: (818) 949-4200 or descansogardens.org.